Food-Grade Filling & Warehousing
Here at USA Warehousing, we've been providing food-grade packaging solutions since 1983. We understand the importance of security and cleanliness for all our facilities. We have three dedicated food-grade storage facilities in Hillsborough, Bridgewater, and Circle Drive in Piscataway, New Jersey.
Our Hillsborough facility in New Jersey has an engineer designed filling room to comply with FDA requirements, including positive pressure atmosphere, non-porous tiled floor and stainless-steel piping with 4 automated filling stations, one of which is a lance station. The site itself has 2 low-pressure boilers for heating railcars, completely oil-free air compressors with -40ºF dew point, and dedicated lines for high volume material. Both Bridgewater and Hillsborough are NACD, ISO and SQF Certified and our Hillsborough facility is Kosher and Organic Certified.
All our warehouses have 24/7 monitored security, security fences along the perimeter and our facilities alarm systems are centrally monitored. We maintain a proactive pest control system and sanitation programs.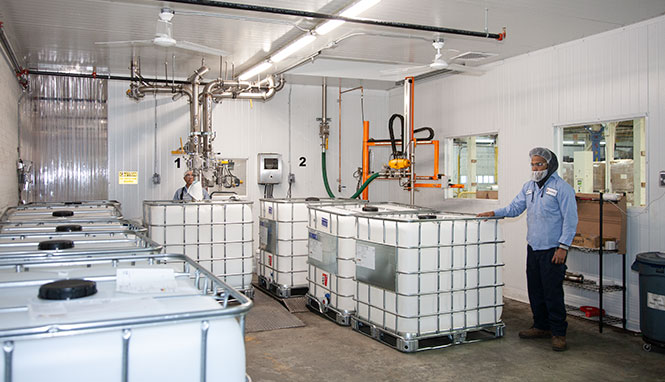 Food-Grade Filling
USA Warehousing is capable of packaging a wide range of materials including but not limited to:
Castor Oil – Used in lubricants, adhesives, coatings & urethane applications
Coconut Fatty Acid – Used as an additive, biocide, chemical intermediate, tanning agent, lubricant, laboratory chemical
Corn Syrup – Fully refined and used as a food ingredient
Di-Propylene Glycol – Used as a plasticizer, as a polymerization initiator or monomer, and as a solvent
Glycerine – Used commercially as a sweetener, emulsifier, in paints and coatings, pharmaceuticals & food products
Lecithin – Fully refined and used as a food ingredient
Organic Canola Oil – Used as a food, triglyceride
Organic Sunflower Oil – Triglyceride from different fatty acids
Propylene Glycol – Solvent used in the production of polymers and in food processing
Soy Bean Oil – Fully refined and used as a food ingredient
Warehousing Services
We provide short- and long-term storage solutions for food-grade materials. Our solutions and services include:
Freight Services
Cross-Docking
Fulfillment Services
Warehouse Management
Comprehensive Inventory Management Software
Food-Grade Warehouse Location Advantages
USA Warehousing provides facilities that have many advantages.
Our Hillsborough location advantages include:
Rail Services – Rail side with 150 car capacity
No short Line – Serviced by Norfolk Southern direct
On-site Locomotive – Cars moved nightly as necessary
Docking Doors – Multiple loading doors in each 44,000 ft2 unit; 10 rail side positions
Our Bridgewater and Circle Drive location advantages include:
Port Services – Fast, reliable services from the Hillsborough port.
Highway Convenience – Close to all major highways including Rt 22, I-287, I-78.
Locator System in Place